Recital at The Osborn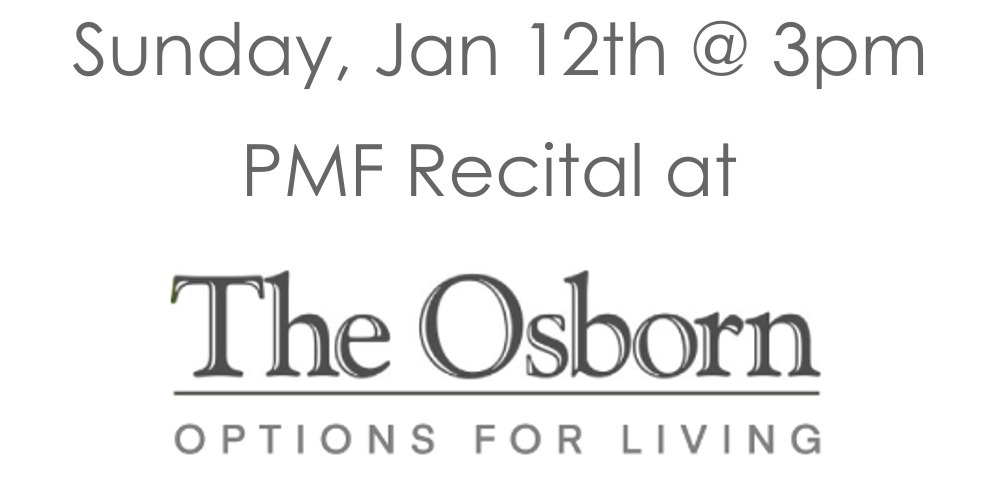 The message below was sent out to everyone who signed up to participate in this Sunday's Osborn recital. 
Hello Everyone!
Thank you so much for participating in the Osborn Recital! This is such a great opportunity to share your music with the community, particularly with the elderly who are such an appreciative audience.
The Osborn Home is at 1500 Theall Road, Rye, New York, 10580. Come through the Main gate, there is plenty of parking. Enter the foyer, there is a receptionist on your left. She will direct you down the long hall to the left where the auditorium is, for the Pelham Music Festival performance.
The Recital will start promptly at 3:00, so you will need to arrive by 2:40. Please check in with me when you arrive. ( I'm the one with the clipboard ) I will need to know what you are performing if it is different from your Festival piece. I'll be announcing the program.
You are representing the Pelham Music Festival, and as a courtesy to the Osborn Home – Please wear neat attire! There will be a music stand for your use, if you need one, but there is no accompanist unless you have provided for one yourself.
This is a friendly and grateful audience, and I hope you will enjoy your time with them and your gift of music.
Please confirm with me by return email that you have received this, with any additional information you need to give me, or if you have any questions.
See you soon!
very best,
Anne Boorman