Accompanist Profile: Vatche Jambazian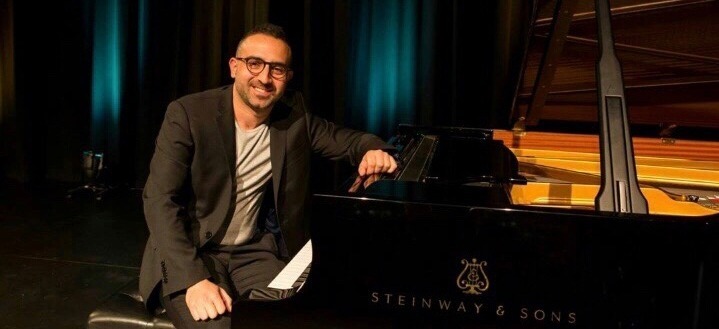 We are excited to welcome Vatche Jambazian to the 2019 Pelham Music Festival.  An emerging international concert pianist originally from Sydney, Australia, Vatche was introduced to us by PMF alum Will Healy.  He will be accompanying a number of performers at the festival, and performing himself during one of the inter-session musical interludes.
He made his international Debut at the age of 16 in Yerevan, Armenia performing a televised recital as part of the Independence Day celebrations. Vatche is prizewinner in the Los Angeles International Piano Competition and the Australian National Piano Award. In 2008 Vatche was awarded the Fine Music Station Young Performer of the Year and was a finalist in the 2015 Symphony Australia Young Performer of The Year. Vatche studied a Masters at The Juilliard School with Joseph Kalichstein and Jerome Lowenthal (2015-2017) and is currently undertaking his Doctorate in Musical Arts at Manhattan School of Music with Daniel Epstein. Recent performances have taken him to London, New York, San Francisco, Los Angeles, Hobart, Sydney and Spain where he has collaborated with artists such as Narek Arutyunian, Sue-Ellen Paulsen and Susan Collins, he has also collaborated with Orava Quartet. Vatche recently performed Kaija Saariaho's Light and Matter Trio for Axiom and the Rolex Arts Initiative Program working alongside Kaija Saariaho.
Recent performances have taken Vatche to Handel's House in London performing works of Handel and Bach, Solo recitals in the Foundling Museum, 1901 Arts Club South London Concert Series, The Royal College of Music (London), Hobart Town Hall (Tasmania), and Guest Performer, Adjudicator and Professor at The Piano Institute in Surabaya, Indonesia. Vatche has also performed in venues such as The Sydney Opera House, Alice Tully Hall, City Recital Hall Angels Place (Sydney), The Great Hall of Sydney University, The Independent Theatre (Sydney), Shepparton Performing Arts Centre (Victoria), Sydney Conservatorium of Music, La Petit Trianon (San Jose), Museum Kranenburgh (Holland) and St.Croix (Paris), Paul Hall (New York) and Alice Tully Hall Lincoln Center. Vatche has been featured on ABC Classic FM (Sydney), Fine Music Station 2MBS (Sydney) and WQXR Radio (New York).